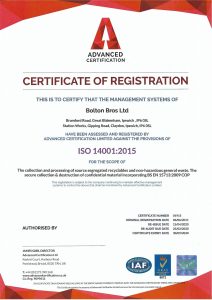 ISO 14001:2015 Advanced Certificate of Registration 
Bolton Bros is registered and is accredited with ISO 14001:2015 certification.  For the scope of the collection and processing of source segregated recyclables and non-hazardous general waste. The secure collection and destruction of confidential material incorporating BS EN 15713:2009 COP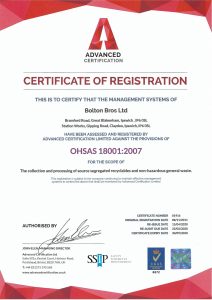 OHSAS 18001:2007 Advanced Certificate of Registration
Bolton Bros is registered and is accredited with ISO 18001:2007 certification. For the scope of the collection and processing of source segregated recyclables and non-hazardous general waste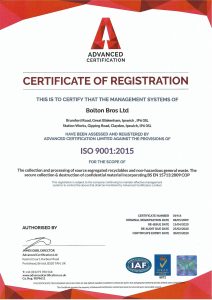 ISO9001:2015 Advanced Certificate of Registration 
Bolton Bros is registered and is accredited with ISO 9001:2015 certification. For the scope of the collection and processing of source segregated recyclables and non-hazardous general waste. The secure collection and destruction of confidential material incorporating BS EN 15713:2009 COP

Waste Carriers Licence
Bolton Bros is compliant with current legislation by holding a Waste Carriers Licence.
This means that the activities of Bolton Bros in relation to the collection and recycling of waste have been reviewed for legal and ethical compliance and achieve the highest standards appropriate for the recycling industry.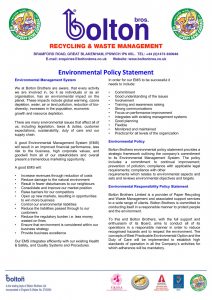 Bolton Bros Environmental Policy
Bolton Bros are passionate about achieving the greatest cost efficiency and maximising the amount of waste recycled. Bolton Bros are pleased to operate in an industry that benefits the environment through recycling materials and reduces the cost of disposing of waste.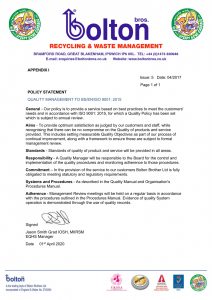 Bolton Bros Quality Management Policy
Bolton Bros is dedicated to ensuring that the best practices are followed to ensure the most energy efficient and cost effective recycling is achieved.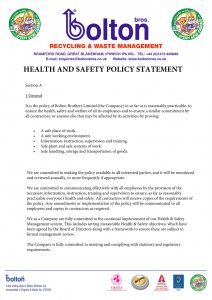 Bolton Bros Health and Safety Policy
Bolton Bros is fully committed to ensuring that all activities are conducted with all possible due regard to the health and safety of employees and the general public.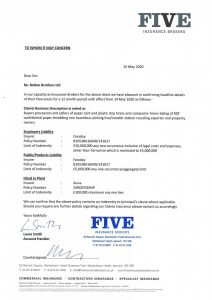 Bolton Bros Insurance
Bolton Bros is fully insured in order to provide recycling services to businesses across Suffolk, Norfolk and Essex with complete safety and security.

Bolton Brothers Recycling Centre (M.R.F.) Permit
This permit allows Bolton Brothers Limited to operate a materials recycling facility (M.R.F.).