Bolton Brothers Expand Team
Appointment of New Sales Manager
Bolton Brothers one of East Anglia's largest recycling and waste management businesses has announced the appointment of Sue Bryant as their new Sales Manager.
Her appointment supports the company's future growth and expansion plans across the region with major emphasis on their confidential shredding & recycling services along with ensuring customers get the best value from their waste by reducing and recycling.
Sue has a wealth of experience having previously worked in logistics and waste management services.
Reuben Bolton, Commercial Director at Bolton Brothers commented: "I am delighted to welcome Sue to the business. Her accomplishments and extensive experience in sales will make her a valuable asset to our team. She has great industry knowledge, knows the region well and ideally placed to attract and retain customers as we continue to grow our commercial team."
He added: "Her appointment also coincides with our desire to expand and grow whilst we are in the process of updating and modernising our facilities at Great Blakenham including our recently refurbished offices on site."
"I am delighted to be joining the business at such an exciting time." Commented Sue.
There is huge potential in this sector, and I look forward to the opportunities that lies ahead."
Bolton Brothers is one of East Anglia's largest family owned recycling and waste management companies. The company recycle a minimum of 95% of all recyclable materials collected. This embraces all types of paper, cardboard, plastic and scrap metal. In addition, the company also offers a full waste management service for all non-recyclable materials for Waste to Energy as well as hazardous materials. This year the company celebrated is fiftieth anniversary.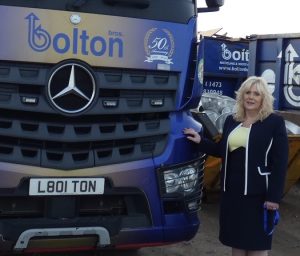 Photo Shows: Sue Bryant, Sales Manager, Bolton Brothers