Covid-19 Update From Bolton Brothers
What unprecedented times we are living in at present.  The COVID-19 pandemic is rapidly changing our daily lives and causing significant disruption. This looks set to continue for some time, but this disruption is necessary if, together, we are to limit the spread and impact of this disease.
Here at Bolton Brothers we want to ensure that our clients whether longstanding, or new to us you will receive the same care and attention during this time.  Like other critical industries, staff shortages could interfere with recycling and waste services, so we are doing all we can to mitigate this risk. Our staff are also our priority and we will be protecting them in line with government guidance.
The Government has also announced that Recycling and Waste Sector employees have now been granted 'key worker status' allowing for the continuation of the collection of materials, which are vital when some of our customers are busy producing, manufacturing and transporting essential medical supplies, food, PPE, printed matter and everything to keep the nation and its supply chain moving.
We have heard that some businesses in our industry are charging their clients for suspending services whilst they are closed. As a family business we want to assure you that we will not be adopting this policy, we know how important helping fellow businesses through this time is so important and to maintain good relationships going forward. From one business to another we want to do everything we can to make sure we all come through these times and still have a great local business community in the future.
Our Staff have been fully briefed on how to operate to ensure both theirs and our customers safety and to protect our customer service levels.
We are continuing to provide a full range of services during these challenging times and have won a few new customers on the back of our professionalism and commitment to customer care.
We will be posting regular updates on our social media and website, so please do check for any additional news from us.
In the meantime, wishing you and all your staff the very best in these challenging times and thank you for your continued support.
Bolton Brothers Team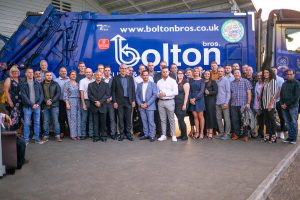 Photo Shows The Team at their 50th Anniversary Party in 2019