School Children Learn First-Hand About the Importance of Recycling
A visit by local school children to a Suffolk recycling and waste management business has helped to educate the next generation about the importance of recycling.
Year 7 and 8 pupils from the Royal Hospital School in Holbrook visited the Materials Recycling Facility in Great Blakenham which is owned by Bolton Brothers, one of Suffolk's leading recycling and waste management businesses. The group took part in a tour learning about the recycling processes and given a classroom lesson by members of staff.
Sue Bryant, Sales Manager at Bolton Brothers, said: "It was a great opportunity to show the next generation the importance of recycling in a real environment."
She added: "Both staff and pupils were given a new awareness of not only how recycling prevents waste, but how much of an impact to the planet a lack of recycling can make.
Feedback from the school was extremely positive, with pupils eager to educate their peers and parents about what they had learnt."
"I feel that education holds the key to addressing the benefits of recycling." Said Sue. "The next generation will be aware not only of the significant environmental impact of their waste, but of its potential value, as many items are recycled into new products."
She added: "We provide the school with separate waste collection services where the school separate's their dry mixed recycling, cardboard, office paper and general waste, so pupils and staff alike are educated in the importance of recycling."
Harriet Izod-Miller, Head of Geography at The Royal Hospital School said: "The tour was so fascinating for our pupils and the added bonus of the talk and quiz was adapted to their young age so well."
She added: "We have had lots of positive feedback from our staff about the comments and stories the pupils have re-told since coming back to school. So clearly the visit made a big impact!"
"The Royal Hospital School take an active approach to ensuring their students engage with all aspects of their school lives including the importance of reducing, reusing and recycling their waste. The students who attended Bolton Brothers are part of the student led Eco-Committee who work to reduce waste in school."
Bolton Brothers is one of East Anglia's largest family owned recycling and waste management companies. The company recycle a minimum of 95% of all recyclable materials collected. This embraces all types of paper, cardboard, plastic and scrap metal. In addition, the company also offers a full waste management service for all non-recyclable materials for Waste to Energy as well as hazardous materials. Last year the company celebrated is fiftieth anniversary.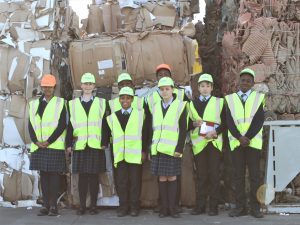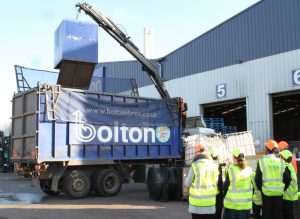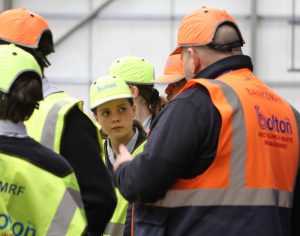 Photo Shows: Pupils from the Royal Hospital School at Bolton Brothers