Third Generation Join Local Family Business
Now into its third generation, the 'Bolton' grandchildren are now working within the local family business. George aged 23 is the eldest son of Oliver Bolton, Florence is the second eldest daughter of Jodi Bolton-Smith and Freddie aged 16 is the son of Reuben Bolton. The business was set up by Michael Bolton Senior 51 years ago, now Chairman and still actively involved with the business.
The company began at a modest yard in Ipswich offering a wide range of services in the paper, cardboard, scrap metal and textile markets.
Today, Bolton Brothers Ltd remains a family run recycling business, one of the largest in East Anglia, employing over 50 staff at its two recycling centres in Suffolk.
Freddie Bolton is the latest member of the family to join the business.  He is 16 years old and has just finished his final GCSE year. Freddie is currently working in the Finance Department as a Junior and intends to obtain his forklift driving licence over the Summer holiday. Freddie is a keen golfer at Ipswich Golf Club and plays rugby for his school and at local club Ipswich Rugby Club, where Reuben is a coach.
Reuben Bolton, father to Freddie and Commercial Director said: "Freddie has gained both valuable administrative and operational skills that can be added to his work experience CV by the end of the school break. Life and work skills are so important to take with you in whatever career path you choose to take, whether this is inside or outside of the family business."
Florence Bolton-Smith, aged 22, is daughter to HR Director Jodi Bolton-Smith and has been present within the family business since 2011.  Florence was educated in Ipswich before embarking on a BA Textile Design Degree at Norwich University of the Arts. Throughout her education Florence has obtained varying roles with the business, from operating the Weighbridge to Office Administration. Immersion within the Bolton Brothers environment over the years has allowed her to gain insight into not only the fundamental logistics involved with running the business, but also more specific knowledge on the grades of material recycled. This information has sparked inspiration to fuse the two very contrasting parts of her life, textiles and recycling, into one innovative concept that was showcased at Suffolk Fashion Show last year. She designed and curated 7 garments made entirely out of recycled materials found in the Bolton Bros warehouse, transforming discarded into couture. Florence said: "The direct contrast of taking a material which is deemed dirty and unsophisticated, such as granulated wheelie bins and pre-owned cd's, and completely transforming it into something which oozes elegance and wow factor was a very exciting concept to play with." Entering into her third year of study in September, Florence will continue to work on a part time basis within the family business and expand her knowledge further.
George Bolton joined the business in September 2017 and is son of Oliver Bolton.  Initially working in the weighbridge office weighing in deliveries and collections, he  passed his Class 2 LGV licence in October 2017 and after a short spell of driving the smaller trucks, George moved on to working inside the Materials Recovery Facility from early 2019 to learn a wider aspect of the business. He has now gone on to gain experience in operating 360 degree rehandlers and forklift trucks, passing his Class 1 LGV in August last year and has already become a very competent multi skilled lorry driver operating Hiab, Skip, REL Trade Waste, Artic Curtainsiders, Hooklift trucks and Drawbar trailers. George is currently studying for his WAMITAB qualification which certifies him for working in waste management and recycling. He is intending to use this one day to allow him to move into a more senior position within the business and is intending to progress to the Transport Manager CPC qualification.
Reuben said: "As a family we have grown our business over the last 51 years.  Family businesses are so important to the local economy and we have found that people are attracted to working with us due to the strength of culture and values that exist within our organisation. Having three generations of 'Bolton's' in the business is something to be celebrated, my father would dearly love to have all 11 grandchildren involved in the business, watch this space!"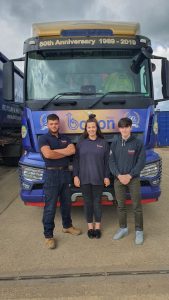 Photo shows from left to right: George Bolton, Florence Bolton-Smith and Freddie Bolton.