Ipswich Rugby Club celebrates its 150th anniversary in style after signing a new main club sponsorship deal with Bolton Brothers
Bolton Brothers has announced they are to be main club sponsors of Ipswich Rugby Club for the 4th year.
Ipswich Rugby Club is one of the oldest clubs in the world and this year celebrates its 150th anniversary season.
The Bolton family are no strangers to the club with brothers, Reuben, Ollie and Mike all playing at the Club for many years from playing in the minis to senior rugby. Reuben, Mike, and Brother-in-law Jason are now coaches at the club and Reuben is the Youth Chairman.
Mike Hancock, Club Chairman, commented: "A big thank you from all at Ipswich Rugby Club to the Bolton family for their continued support of rugby at Humber Doucy Lane, Ipswich."
He added: "Without this support we would struggle to maintain and improve our offering to our playing membership and supporters. Our membership has grown significantly over the last few years as we invest in facilities, kit and equipment and coach education.  The support from Bolton Brothers has underpinned these improvements and we hope that our association has many more years on the clock so we can continue to invest in the club's future for the benefit of all its members and supporters."
Reuben Bolton, Commercial Director at Bolton Brothers said: "The Partnership between Bolton Brothers and Ipswich Rugby Club is such a great fit and we are delighted to have been able to support the club over the years."
He added: "As a family we have been passionate about rugby our whole lives, from playing ourselves to coaching. We cannot wait to see everyone playing again from the juniors right through to the senior team.  I may even have a couple of games for the newly resurrected Tankards Team this season when it starts back!"
He added: "It is so important to support grass roots rugby at such a great club; one that is doing so much for the local community.  Rugby is not just about great skills on the field but also teaching them important lessons about life, including teamwork and self-discipline. Our sponsorship contribution is just part of the fantastic fund-raising work being done by the team of volunteers that are the backbone of the club and we are delighted to be involved."
The club has recently launched its 150th anniversary fund (www.irfc.fund) to raise money for capital projects at the club in order to secure its future as a community club – sponsored runs and cycle rides are taking place and 3 first team members are undertaking the three peaks challenge. Other events such as a sponsored truck pull and a gala anniversary dinner are planned, Covid-19 permitting.
The Club has a strong senior playing section – three men's teams played last season with 1sts and 3rds pushing for promotion and this season they will re-launch the 4th team "The Tankards" after a 25-year absence. They also boast a growing ladies and girls' section together with a strong junior section with all age groups from U6 to Colts represented.
Other businesses who have re-signed as key corporate sponsors include Prime Retail, SG Wealth Management, Greene King, Ashtons Legal, Aspall Cyder and Classic Hand Tools.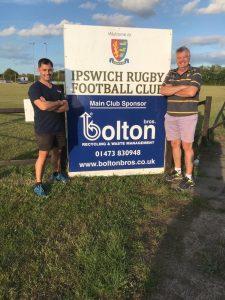 Photo Shows: Left to right: Reuben Bolton, Commercial Director Bolton Brother and Mike Hancock, Ipswich Rugby Club Chairman